All news
Acontece
• September 12, 2023
Braskem to purchase plastic-waste-derived feedstock from Vitol SA, produced by WPU - Waste Plastic Upcycling A/S in Denmark
Braskem will use the feedstock to grow its circular products portfolio, contributing to the company's public commitments to increase sales of products with recycled material.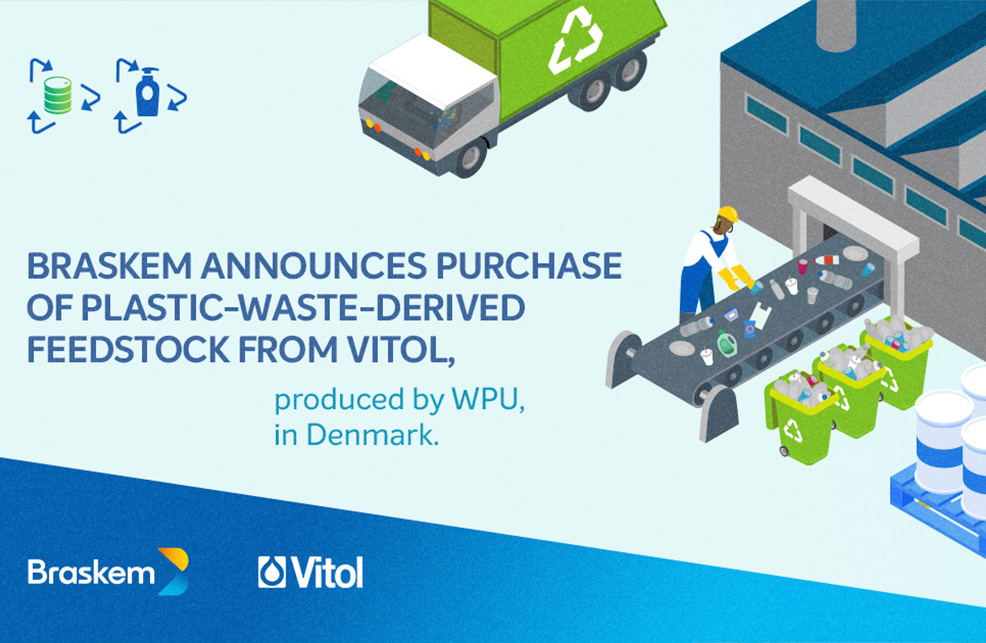 Braskem and Vitol S.A. have announced an agreement for circular feedstock derived from plastic waste. Under the agreement, Vitol will start to supply Braskem Netherlands B.V. with pyrolysis oil produced in the chemical recycling process at the facilities of WPU - Waste Plastic Upcycling A/S, in Denmark.
Chemical recycling is a complementary process to traditional mechanical recycling. It enables plastic waste that is unfit for mechanical recycling to be recovered and turned into valuable raw materials for the chemical industry, an alternative to fossil fuel-based feedstock.
The agreement with Vitol helps Braskem increase the circularity of its products around the world. It is part of the Wenew ecosystem, a concept that represents and consolidates Braskem's efforts in the circular economy on four pillars - products, education, technology, and circular design. The initiative has a significant impact on the company's growth strategy and the achievement of plastic waste reduction targets. By 2030, Braskem plans to sell 1 million tons of products with recycled material and recover 1.5 million tons of plastic from the environment.
"The circular economy is an objective linked to Braskem's business strategy. Adopting initiatives that include plastic waste recovery, mechanical, and chemical recycling in our production processes is connected to our company's purpose to provide a more circular and sustainable future. We believe that Vitol's infrastructure and expertise combined with WPU's plastic waste recycling technology will enable Braskem to take an important step towards developing sustainable solutions for our clients", said Walmir Soller, VP of Olefins and Polyolefins at Braskem Europe & Asia.
Global Head of Naphtha trading at Vitol, Tom Baker, said: "We are delighted to supply Braskem with pyrolysis oil from WPU, which complements Braskem's desire to further the circularity of its products globally. Incorporating waste-derived feedstock into the supply chain is a cost-effective upcycling solution that will ensure Braskem can meet its clients' sustainable needs."
For Niels Stielund, chairman of the board at WPU - Waste Plastic Upcycling A/S, the agreement with Braskem is an important step. "We are delighted that we can support Braskem's efforts to achieve sustainability using the pyrolysis oil we produce at our factories. That a world-renowned actor like Braskem will now use our feedstock is a milestone for us and a stamp of approval for our proprietary technology. It also highlights how end-of-life plastic can be a valuable resource in a circular process instead of ending up in incinerators or landfills, and we are humbled and happy to embark on this journey with Braskem and Vitol", says Stielund.
About Braskem
With a strategy centered on people and sustainability, Braskem is engaged in contributing to the value chain to strengthen the Circular Economy. Braskem's almost 9,000 team members dedicate themselves every day to improving people's lives through sustainable solutions in chemicals and plastics. With its corporate DNA rooted in innovation, Braskem offers a comprehensive portfolio of plastic resins and chemical products for diverse industries, such as food packaging, construction, manufacturing, automotive, agribusiness, health, and hygiene, and more. With 40 industrial units in Brazil, the United States, Mexico, and Germany, Braskem exports its products to clients in over 70 countries.
Braskem on social media
www.facebook.com/BraskemGlobal
www.linkedin.com/company/braskem
www.twitter.com/Braskem

Media relations:
CDN Comunicação
braskem@cdn.com.br
About Vitol
Vitol is a leader in the energy sector with a presence across the spectrum: from oil to power, renewables, and carbon. Vitol trades 7.4 million barrels per day of crude oil and products, and charters around 6,000 sea voyages every year.
Vitol's counterparties include national oil companies, multinationals, leading industrial companies and utilities. Founded in Rotterdam in 1966, today Vitol operates from some 40 offices worldwide and is invested in energy assets globally including: 17 m m3 of storage globally, roughly 500 k b/d of refining capacity, over 7,000 service stations and a growing portfolio of transitional and renewable energy assets. Revenues in 2022 were $505 billion. For more information, please visit www.vitol.com .
About WPU
WPU - Waste Plastic Upcycling was founded in 2019 and is based in Denmark.
WPU utilizes a proprietary batch technology. It is extremely tolerant and can handle various types of plastic. It has an indiscriminate intake of polluted plastic waste. Almost no sorting of the plastic waste is needed before the pyrolysis process.
Only ISCC-certified end-of-life plastic is processed to ensure the highest degree of sustainability possibleCircularity in the pyrolysis process is ensured by using gas from the production to keep the reactors running.