Braskem invests in capacity expansion and partnerships for the production of biobased plastics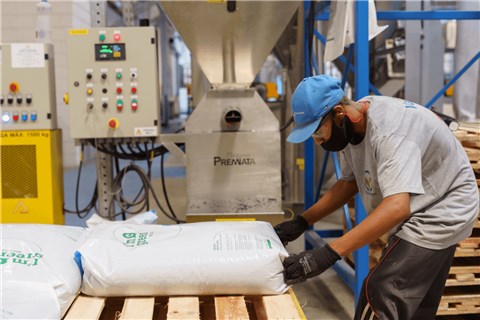 Düsseldorf/Amsterdam, October 21, 2022 - Braskem, the largest resin producer in the Americas and the world's leading biopolymer producer, expands its production of I'm green TM biopolymers; biobased plastics made from sugarcane. This exemplifies Braskem's commitment to the circular economy and its ambition to become carbon neutral by 2050 and marks an important step towards a global change in the entire industry. To date, around 200,000 tons of biopolymers per year are produced in Brazil but will expand to 260,000 tons. In 2030, this amount is expected to increase to one million tons.
I'M GREEN TM BRAND EXCLUSIVE TO BIOPOLYMERS
After the launch of Braskem's Wenew brand for recycling and other circular solutions, the I'm green TM brand is fully dedicated to Braskem biopolymer solutions made from sustainably sourced bioethanol.
INVESTMENTS IN CAPACITY EXPANSION AND NUMEROUS COLLABORATIONS
Braskem is investing a total of around $60 million in expanding its I'm green TM biopolymer production capacities by 30%. The company is also examining the possibility to build a new I'm green TM biopolymer factory in Thailand. The partner in this ambitious project is SCG Chemicals, a leading chemical company in the South-East Asian country. The partners are currently working together on studies into the feasibility and optimal location of such a production facility. A corresponding memorandum of understanding (MOU) has already been concluded in 2021. This cooperation on its own can help to up to double the existing capacity for " I'm green TM" products.
In addition, there are numerous collaborations in other areas - such as the one with Lummus Technology for the licensing of biopolymer technologies, which in turn leads to increased development of new bio-based materials. Lummus is one of the leading licensors in the field of ethylene and now has added ethanol dehydration to ethylene to its portfolio. This sustainable solution will contribute significantly to the transition to a carbon-neutral circular economy.
Another significant step from Braskem towards a low carbon circular economy is the joint venture with the Japanese supplier Sojitz to produce bioMEG (monoethylene glycol) for PET and bioMPG (monopropylene glycol) for a range of applications, including cosmetics sends a clear signal in this regard.
OFFSETTING EMISSIONS FROM PRODUCT TRANSPORTATION:
Scope 3 (indirect) emissions are one of the most challenging to tackle in the fight against climate chain. Specifically for emissions related to transportation and distribution, the task is even more complex, as there are no scalable technologies or short-term "carbon neutral" fuel alternatives widely available that eliminate the impact on the climate for the coming years.
Therefore, to address these challenges and provide sustainable solutions to the partners of its supply chain, Braskem began to discuss with its customers and suppliers the compensation of scope 3 greenhouse gas emissions (categories 4 and 9), based on the acquisition of carbon credits from high quality projects certified in the international voluntary market. To this end, Braskem implemented a Carbon Trading Desk in early 2022, which will support commercial teams globally in offering solutions to offset emissions in the transport of products to customers.
"As a pioneer in the use of sustainable resources, Braskem has one goal above all: to show that transformation is possible. It's not for nothing that we were ranked 'Best Company in the Circular Economy' by BloombergNEF*. I'm green TM is more than a competitive differentiation tool: the brand - like all Braskem's other sustainability initiatives - stands for the transformation to producing a responsible product for society," explains Marco Jansen, Business Director of Biopolymers and Sustainability EMEA.
MORE INFORMATION: I'M GREEN TM & BRASKEM'S MACRO-OBJECTIVES
SUSTAINABLY SOURCED, RESPONSIBLY MANAGED
The production of biopolymers from sugar cane at Braskem is environmentally friendly and resource-conserving in every respect. Suppliers are compliant with Braskem's responsible sourcing program, which establishes the operational standards expected from suppliers in their management of human resources, the environment, local communities, quality, and efficiency. Also, the cultivation areas are located far away from the sensitive territories along the Amazon and thus do not pose a threat to the rainforest.
Next to that, the sugar cane growers ensure maximum compliance with Environmental and social standards so that as little residual material as possible remains, i. e. that all crop residues are recycled as far as possible. The motto: nothing should be thrown away, but rather everything should be transformed into something usable.
NO PROCESS CHANGE IS REQUIRED ON THE PART OF THE USER
Braskem has been producing " I'm green TM " biopolymers in Brazil since 2010. One of the advantages is the fact that, from the very beginning, no major process adjustments on the part of customers or users were required for their use, a drop in solution. The performance of the sustainably sourced polymers is so convincing that they have now established themselves as an environmentally friendly alternative to regular plastics on a wide scale.
CLIMATE AND ENVIRONMENTAL PROTECTION ANCHORED IN MACRO GOALS
Braskem has defined a total of seven so-called macro-objectives, which contributes to sustainable development, in which two are directed to the ambition to become a circular economy carbon neutral company. The spectrum ranges from safety and health aspects to ethical and ecological issues to explicit climate protection. In conjunction with other objectives such as waste avoidance through recycling, environmentally compatible production, and a sustainability-oriented culture of innovation, Braskem has thus created a comprehensive compendium in the sense of environmentally and humanly compatible development.
Our ambition is to be among the global petrochemical leaders in Greenhouse Gas (GHG) emissions and a key player in carbon capture through the production of materials with renewable, biobased raw materials. With the " I'm green TM " brand and the corresponding products, Braskem is making an important contribution to this meta-goal and can thus provide other players with important impetus as a role model.
More information: https://www.braskem.com/principal/circulareconomy