Todas as notícias
Press Releases
• October 20, 2021
Braskem Week ends its first edition with close to 10,000 visitors
The virtual event promoted by Braskem from October 05 to 07 brought together main industry players to discuss sustainable solutions in chemicals and plastics, and presented the market with its business differentials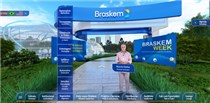 The first edition of Braskem Week, held from October 05 to 07, had almost 10,000 visitors for the event. The main focus of the trade show was on presenting sustainable and innovative Braskem solutions in chemicals and plastics to different sectors, such as agribusiness, packaging, civil construction, automotive, among others.
Braskem Week was held on a fully digital format platform (www.braskemweek.com.br) in three languages (Portuguese, English and Spanish), simulating a traditional trade show environment, consisting of booths with various content and space for individual interaction, carried out by experts from the company's technical and commercial areas. Visitors to the event were able to browse through the Braskem Week spaces on their own, as if they were in-person in a trade show.
In addition, more than 3,000 participants could follow live presentations on various topics that involve plastics, chemicals and society, among them circular economy, design for packaging circularity, sustainable development, diversity in companies, renewable solutions and Sanitation Legal Landmark.
"Braskem Week was designed as an opportunity to foster synergy among the various business segments where we operate, while showing all our capacity for developing innovative, sustainable and customized solutions according to our clients' requirements", says Roberto Simões, Braskem CEO.
According to Edison Terra, Vice-President Olefins and Polyolefins at Braskem South America, event results exceeded expectations. "It was a success. We are very happy to learn that the first edition of Braskem Week, a unique event fully owned by Braskem, achieved its goal by bringing together various market players, as well as other interested parties in the segments we operate in, generating knowledge and discussions in current topics on sustainability, showing the market the full business differentials of our company", he says.
According to Isabel Figueiredo, Vice-President Vinyl and Specialties, "Braskem Week was also an opportunity to highlight to our public Braskem's commitment to sustainable development through chemicals and plastics, besides encouraging and engaging them in using renewable solutions and in the circular economy".
Intense participation by the audience in the presentations
Live presentations shown during Braskem Week had the presence of a varied audience, from companies to university students interested in learning more about the company and its sustainable solutions for the industry. More than three thousand visitors in all watched the presentations, interacting and bringing up new discussion topics to the speakers.
On the first day of the event, "The Value of Diversity within Organizations" was discussed, a presentation given by Ricardo Salles of Mais Diversidade (More Diversity). Next, Jorge Soto, Braskem Director for Sustainable Development, gave a presentation on "Sustainable Development Strategy at Braskem", followed by Yuri Tomina, Market Development and Renewable Polyethylene Manager at Braskem, who spoke about "Design for Packaging Circularity".
On the following day, Pavan Sukhdev, the environmental economist invited by Braskem, discussed "Economy and Sustainability". On the same date, Fabiana Quiroga, Circular Economy Director at Braskem, gave a presentation on "Braskem Background in Circular Economy: Solutions and Challenges", followed by Éverton Van Dal, Business Development Leader for Chemicals and Renewables at Braskem, brought up for discussion "Renewable Solutions for the PET and Polyester Markets".
On the last day, Édison Carlos, Executive President of Instituto Trata Brasil, was invited to discuss the "Challenges and Opportunities of Basic Sanitation after the New Legal Landmark"; Luiz Alberto Falcon, in charge of the Chemical Recycling platform at Braskem, and Éverton Van Dal gave a presentation on "Alternatives for a more Circular Future: The Development of New Technologies in Recycling, Renewables and Mass Balance", while Ana Paiva, Braskem Market Development specialist, and Natália Gava, Braskem Application Engineer, addressed "Irrigation: Market Overview and Braskem Portfolio".
Presentations and all other content will be available during the next three months on the www.braskemweek.com.br platform for those who are interested in watching them. To do that, simply register and click on the "Auditório" option on the website.
For more information related to press, please contact:
CDN Communication
(11) 3643-2906
(11) 3643-2919
Related News

Imprensa
Se você é um profissional da imprensa, a Braskem tem um canal feito só pra você.
Acesse aqui
Customers
Become a Braskem customer
Braskem is one of the largest suppliers of chemical and petrochemical products in the world, recognized for its focus on sustainable development, innovation and quality.
We believe in lasting partnerships, we have a broad portfolio of products and we work together with our customers to create new practical and sustainable solutions in all markets.
Talk to our sales team