Braskem seals partnership with companies for the development of stand-up pouch packaging with post-consumption recycled resins (PCR)
Initiative with Antilhas, Gualapack and Terphane enables an alternative to brands requiring barrier packaging made from recycled raw material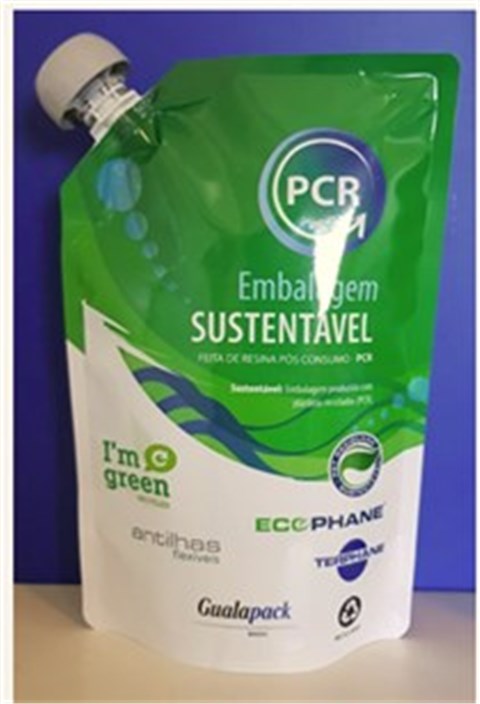 Aimed at stressing its commitment so that brands achieve their sustainability goals, in collaboration with Antilhas, Gualapack and Terphane, Braskem has developed a stand-up pouch (SUP) package made from post-consumption recycled (PCR) raw material. This is a new alternative for brands requiring barrier solutions while looking to incorporate PCR use in their non-food packaging.
The partnership begins by sending Braskem I'm greenTM recycled polyethylene (PE) resin, along with a PET film with Ecophane® PCR supplied by Terphane - the same as used in plastic soda bottles - to Antilhas, in charge of production, lamination and printing thereof. After this stage is compete, the packaging structure is sent to Gualapack, which performs nozzle and top injection with recycled polyethylene and then formats the pouch. Finally, Antilhas and Gualapack are in charge of product marketing.
The technology developed with post-consumption recycled resin, as a result of this collaboration, has led to the production of packaging with 43.3% post-consumer content (r-PE + r-PET), generated from waste collected through Braskem's packaging reverse logistics and from landfills.
"This partnership underlines our commitment to circular economy. We operate on various fronts along with highly qualified companies, in order to create more sustainable products that meet market demand. Expanding recycled content use in high value applications will only be possible by bringing together all the links in the supply chain", says Américo Bartilotti, Director of Packaging and Consumer Goods at Braskem.
Alan Baumgarten, Gualapack CEO, points out that the packaging has been submitted to the same testing and safety protocols as versions made from fossil resin, demonstrating they are ready to meet market requirements. "After putting the pouches through stress tests, it was possible to come to the conclusion that the technology has good sealing capability, allowing for its use in more technical products", he adds.
The purpose of the packaging is to contribute towards plastic packaging returning to the production chain, making it marketable for home care and other non-food markets, among others. "This is an alternative especially for brands aiming to achieve their goals for PCR incorporated into their packaging and do not have any constraints on using this kind of material, such as in home care products", summarizes the Gualapack CEO.
André Gani, Terphane Sales & Marketing Director, highlights the contribution made by the Ecophane® line to the project. "Developing the Ecophane® line not only complies with the sustainability metrics set out by Terphane, but also meets the needs of brand owners seeking to associate their brands and products with increasingly more sustainable packaging. It is made from recycled PET from bottles and packages, with a composition that has at least 30% PCR - i.e., besides ensuring less virgin raw materials, it contributes towards the Circular Economy."
"Antilhas joining this project is another step towards assisting brands in achieving their goal of reformulating 100% of packaging: enabling them to become adherent to the challenges listed on the sustainability agenda of major companies, achieving Zero Landfill status. Just as we did with the 100% PE stand-up pouch, we continue to pursue our DNA and commitment to the environment and to sustainable project development", says Carlos Hugo, Antilhas Technical Commercial Development Manager.
For more information related to press, please contact:
CDN Communication
(11) 3643-2906
(11) 3643-2919