Todas as notícias
Press Releases
• September 2, 2019
Braskem reinforces its Circular Economy positioning at K Fair
From October 16 to 23, in Düsseldorf, Germany, Braskem will showcase its new product launches and its solutions for reducing environmental impact and post-consumer waste.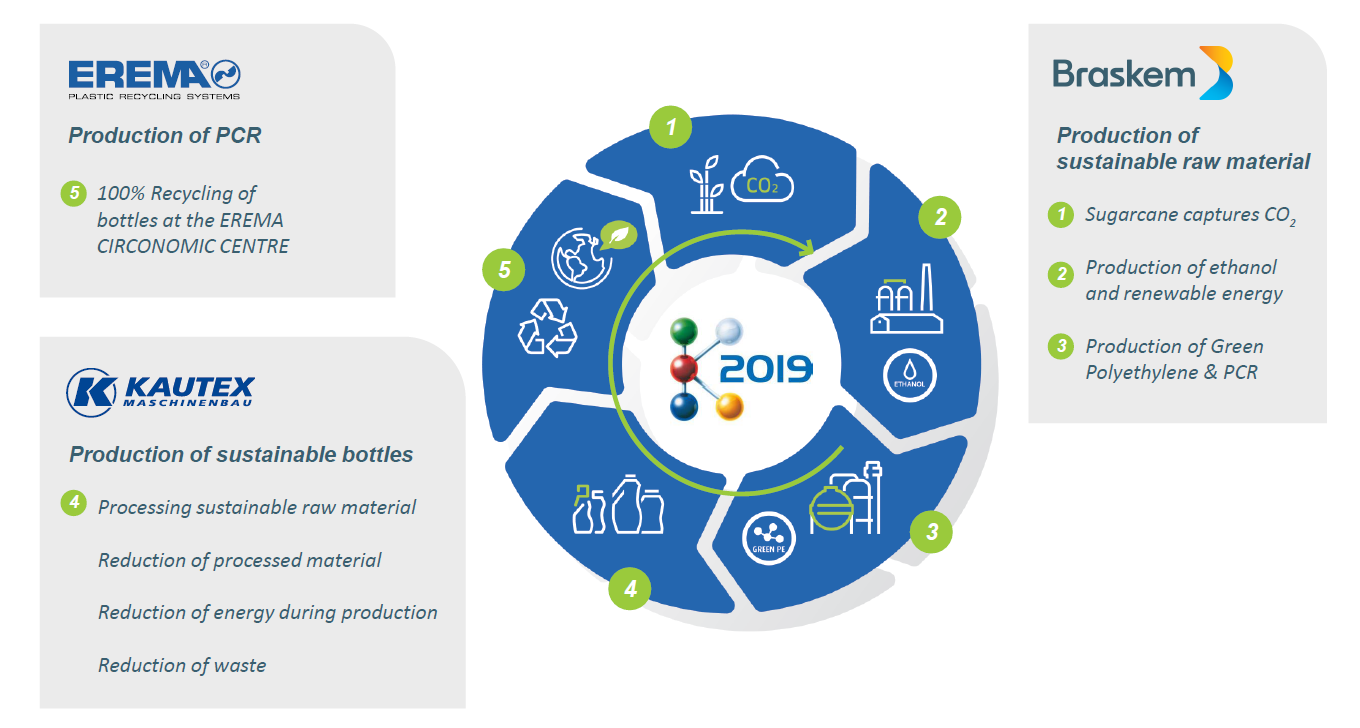 Braskem, the largest thermoplastic resins producer in the Americas and the world's leading biopolymer producer, will reinforce during K Fair , the world's largest trade fair for the plastics and rubber industry, its commitment to fostering the Circular Economy , a consumption concept that seeks sustainable cycles from production to disposal. From October 16 to 23, in Düsseldorf, Germany, Braskem will showcase its new product launches and its solutions for reducing environmental impact and post-consumer waste.
Braskem also will officially announce at the event its partnership with Kautex Maschinenbau , to which it will start supplying its Green Plastic resin, which is made from sugarcane, as well as post-consumer resin (PCR), for the pioneering production of bottles made from high-density polyethylene (HDPE) with three layers, one consisting of foam. The solution reduces the CO2 footprint of the final product compared to those made using conventional technologies.
The bottles will be available at Braskem's booth and, to close the consumption cycle, instead of the typical practice of being handed out to visitors, the bottles manufactured during the fair, on Kautex's machines, will be collected and sent for recycling under a partnership with Erema , a manufacturer of machines for plastic recycling. The initiative reaffirms the three companies' commitment to the Circular Economy.
"We are seeking ways to demonstrate the importance of taking into account the complete cycle, from production to post-consumption, of products made from our raw materials. We're really pleased to be here at K Fair announcing a partnership that uses renewable and post-consumer materials and already considers the recycling process for reintroducing the product into a new cycle. This is a clear example of our commitment to the Circular Economy and of the importance of cooperation between companies for obtaining successful concepts," explained Fabiana Quiroga, director of Circular Economy and Recycling at Braskem.
In a large area of the event, the Erema Circonomic Centre has been built, a name formed from the words "circular" and "economic," which will demonstrate various forms of recycling by processing different plastic materials. During the fair, over 30 tons of plastic will be recycled, including the other bottles used in the event and produced by Kautex.
Gustavo Sergi, director of Renewable Chemicals at Braskem, reinforces the importance of the company's renewable products portfolio to the Circular Economy. "This partnership with Kautex and Erema confirms once more that the global industry is increasingly interested in sustainable solutions that add value to finished goods," he added.
"K Fair is the world's largest event for plastics. Showcasing these new products and services and reinforcing the importance of the Circular Economy, mainly for our current and future clients, is of great importance to Braskem and reaffirms our global position in the industry," said Fabiana.
About Kautex Maschinenbau
With 80 years of experience in providing innovative products and services, Kautex Maschinenbau is the world's leading company in blow and extrusion molding technology. Its clients include major auto manufacturers and suppliers, as well as packaging producers, which every day place their trust in the knowledge and experience of a brand synonymous with quality and reliability. The company has a headquarters in Bona, a customer service center in Berlin and regional offices in the United States, Russia, China, Italy, India, Mexico and Malaysia. Kautex Maschinenbau also has a large global network of service and distribution offices.
About Erema Group
The EREMA companies (including two commercial units POWERFIL and KEYCYCLE) 3S, PURE LOOP, UMAC and PLASMAC are part of the Erema Group. In addition to subsidiaries in the United States, China and Russia, the group also has fifty branch offices that combined form a global network for implementing customer solutions for plastic recycling. The group is headquartered in Ansfelden, Austria, near Linz, and has around 550 employees.
For more information related to press, please contact:
CDN Communication
(11) 3643-2906
(11) 3643-2919
Related News

Imprensa
Se você é um profissional da imprensa, a Braskem tem um canal feito só pra você.
Acesse aqui
Customers
Become a Braskem customer
Braskem is one of the largest suppliers of chemical and petrochemical products in the world, recognized for its focus on sustainable development, innovation and quality.
We believe in lasting partnerships, we have a broad portfolio of products and we work together with our customers to create new practical and sustainable solutions in all markets.
Talk to our sales team