Todas as notícias
Press Releases
• October 26, 2021
Braskem presents pioneering study on mattresses made from expanded polyethylene foam
Company aims to increase its participation in the expanded polyethylene solution in the mattress market, as an alternative with lower environmental impact compared to the traditional market solution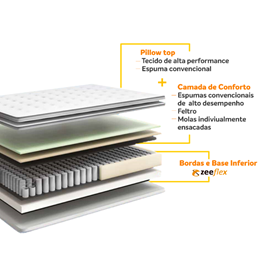 Braskem and Innovak, a solutions developer for the electrical and electronics, civil construction and consumer goods markets, among others, together with the mattress manufacturer Flex do Brasil, conducted a pioneering Life Cycle Assessment (LCA)* study on mattresses using Zeeflex technology, made by Innovak and based on expanded polyethylene (PE) foam.
The study, presented in the annual Flex congress, shows that mattresses manufactured with the expanded polyethylene technology generate 12% less environmental impact compared to ordinary mattresses, taking into account product development and durability. In addition, the study pointed to 36% less water usage (equivalent to 61 showers, 15 minutes long) in the production process and a 19% drop in carbon emissions (equivalent to a medium-size gas-fueled car, with two people traveling for approximately 37 kilometers) during its life cycle. In addition, expanded polyethylene is 100% recyclable.
"Braskem has a very strong commitment to the development of solutions in increasingly sustainable chemicals and plastics and contribute towards improving people's lives. The partnership between Innovak and Flex do Brasil, brands of reference and quality in the mattress market, enabled Flex do Brasil to bring mattresses to the market that meet consumers' needs, while having lower environmental impact, thanks to Zeeflex, the PE-based technology. These environmental gains can now be quantified in this joint study", states Yuri Tomina, Market Development Manager of the packaging and consumer goods business at Braskem.
The analysis aimed at providing sustainability concepts to the Innovak and Flex sales force, thus contributing towards directing product marketing arguments by the brands, including as regards increased efficiency in the manufacturing process and contributing towards reducing environmental impact. In addition to the project, developed after three years of studies by the companies with their team of experts in sustainable development and LCA, Braskem also contributed with the supply of resins that make up mattresses with Zeeflex, as well as interactions with the product manufacturer. "We continuously think and act sustainably in all our corporate activities, from operational and management processes to services, investments, relationships and products", says Tomina.
According to Francisco Fernandes, Innovak Director, the result of the study reflects the synergy between the companies involved and their commitment towards sustainability within the industry. "In our market, clients increasingly demand products that demonstrate quality, innovation and sustainable features. By using the Zeeflex solution, we are able to meet such demands, adding more value to our clients' products and advantages that extend through the other end to the final consumer", he adds.
According to Olga Fonseca, Flex do Brasil Marketing Director, 90% of the company's products already use Zeeflex technology for the mattress bottom. "Last year, we launched a few products using Zeeflex around the edge, and we have currently expanded the offering to ten types of mattresses with this technology, for the bottom and around the edges, adding more sustainability. These products are experiencing growth and Flex do Brasil expects that about thirty models will use Zeeflex in their composition by 2022", she points out.
* LCA is a complete product life-cycle analysis of environmental impacts, from raw material extraction through final disposal.
For more information related to press, please contact:
CDN Communication
(11) 3643-2906
(11) 3643-2919
Related News

Imprensa
Se você é um profissional da imprensa, a Braskem tem um canal feito só pra você.
Acesse aqui
Customers
Become a Braskem customer
Braskem is one of the largest suppliers of chemical and petrochemical products in the world, recognized for its focus on sustainable development, innovation and quality.
We believe in lasting partnerships, we have a broad portfolio of products and we work together with our customers to create new practical and sustainable solutions in all markets.
Talk to our sales team