Todas as notícias
Press Releases
• April 20, 2022
Braskem presents innovative and sustainable plastics solutions for agribusiness in the Agrishow 2022
Products add value to agricultural work focused on protected crops, suitable storage and efficient irrigation, among other fronts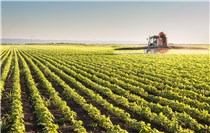 Striving to stimulate the Brazilian agribusiness and establish closer ties with farmers, Braskem makes its brand present in the Agrishow 2022, one of the most important agricultural technology trade shows in Brazil and the world. The event takes place from April 25 to 29 in Ribeirão Preto (state of São Paulo, SP).
Braskem, with a 600 m² stand, has a specialist team available to provide guidance and present innovative and sustainable solutions in chemicals and plastics for agribusiness. Products that add value to protect crops or cattle, reducing costs and increasing productivity and yields.
"We want to show how plastics can be an innovative material and an ally to agribusiness", says Karen Pallone, leader for Agribusiness, Construction & Infrastructure markets at Braskem. "It is a very important sector in the Brazilian economy, as it corresponds to around 20% of the Brazilian GDP (Gross Domestic Production) and generates 37% of jobs in Brazil. Taking into account such representation and contribution of plastics to leverage productivity and sustainability in agribusiness, we want to stimulate the development of the supply chain, generating new business and showing to the public the solutions in plastics we produce for this market, so that farmers envisage the benefits they can add to their business".
An outstanding solution is the Silo Bag, a flexible plastic tunnel (polyethylene - PE), designed to store grain, silage and by-products. Developed in an oxygen-free environment to prevent propagation of pests and insects, the product retains the quality of grain for up to 12 months, with features such as ease of installation, low cost and segregation into batches. As a result, the farmer has more space for crops, as it frees up part of the area previously reserved for storage.
The Brazilian grain harvest growth estimate for 2021/2022 is for an increase of 5.4% compared to the previous harvest. Demand for silo bags has grown by approximately 12% in 2021 as a result of the continued growth in this sector.
"Plastic is a sturdy, flexible, reusable and recyclable material, characteristics that enable us to produce a number of different low-cost solutions with greater versatility, and that includes for agriculture", adds Karen.
Another Braskem solution that should capture the attention of Agrishow visitors is the Anti-insect film for Bananas, the only film of its kind available on the Brazilian market that does not require the application of insecticides. The formulation of this product has an anti-UV additive that interferes with the vision of insects, keeping them away from the fruit. It is a solution that, even without the use of insecticides, significantly reduces the attack of thrips (insects) on the bunch and makes bananas more aesthetically pleasing.
Braskem will also display Fence Spacers, made of polypropylene plastics (PP) for fitting wire fences while keeping the correct spacing, preventing animals from crossing and for enclosing areas. Resistant to weather conditions, it delivers low maintenance costs and greater durability if compared to wood and wire solutions. It also requires low labor costs and a reduced assembly time for the fence due to its unique fitting system.
In terms of innovation, Braskem will also display the Wrap, a high adherence polyethylene film, protecting previously bagged silage to be used for feeding dairy and beef cattle. This is a solution that retains nutritional value of the feed for up to 12 months, and ease of transportation and movement. There are no additional costs with storage, since it can be left out on the fields.
"Given the relevance of agribusiness, plastics and chemicals applications in agriculture are part of Braskem's main businesses. The company is constantly investing in solutions and technologies to support the development of agricultural activities. Our portfolio presents various solutions for the sector's different supply chains, made from polyethylene (PE), polypropylene (PP) and PVC, which assist in protected crops, irrigation and infrastructure", says Karen.
Support to startups and an incentive to agribusiness
As part of the support to the development of new agribusiness solutions, Braskem is taking startups Decoy Smart Control, Autoponia and Nucleário, the latter accelerated by Braskem Labs, the startup acceleration program that fosters the creation of innovative solutions, capable of generating positive social and environmental impact.
At the trade show, Decoy Smart Control will display its biological control solution against cattle ticks, Autoponia with its hydroponic automation system and Nucleário with its product for the reforesting sector.
Braskem invests in research and technology to find the best solutions in plastics for agribusiness. As an additional support to startups, this year Braskem entered into a partnership with AgTech Garage, an innovation hub that promotes connecting large companies, startups and teaching institutions, aimed at facilitating and accelerating the development of technological and innovative solutions for the agribusiness. With this initiative, Braskem intends to drive, through open innovation, the development of sustainable and innovative plastics solutions for the agribusiness industry.
Braskem's partnership with FAPESP (São Paulo Research Foundation) to inaugurate a Plasticulture Research Center, based at UNICAMP (University of Campinas) is another initiative to stimulate the sector. The site will focus on developing research involving plastics solutions with polyethylene, polypropylene and PVC that ensure greater efficiency and sustainability to agricultural production. Annual investments of up to BRL 1.6 million will be made for the projects, with contributions divided between the company and the teaching institution for master's, doctorate, post-doctorate degree and scientific initiation scholarships, purchase of consumables for research work (reagents, fertilizers and seedlings) and permanent materials (greenhouses for testing), among other items.
Service
Braskem at Agrishow 2022
Date: April 25 to 29
Time: from 8 a.m. to 6 p.m.
Location: F21c1
For more information related to press, please contact:
CDN Communication
(11) 3643-2906
(11) 3643-2919
Related News

Imprensa
Se você é um profissional da imprensa, a Braskem tem um canal feito só pra você.
Acesse aqui
Customers
Become a Braskem customer
Braskem is one of the largest suppliers of chemical and petrochemical products in the world, recognized for its focus on sustainable development, innovation and quality.
We believe in lasting partnerships, we have a broad portfolio of products and we work together with our customers to create new practical and sustainable solutions in all markets.
Talk to our sales team