Braskem and DiveDesign join forces to develop customized 3D-printed dog wheelchairs for Wobbly Hannah
The product development, coupled with the choice of ideal material, led to the perfect combination by offering a light, durable and tailor-made solution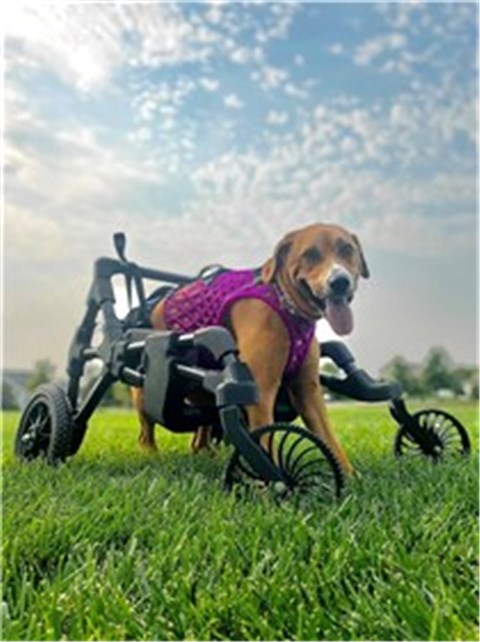 Braskem (B3: BRKM3, BRKM5 and BRKM6; NYSE: BAK; LATIBEX: XBRK) ("Company"), the largest polyolefin producer in the Americas and pioneering world leader in biopolymer production on an industrial scale, and DiveDesign, award-winning product design and marketing company, set up a partnership to develop a customized dog wheelchair printed in 3D for the "Wobbly Hannah" chain (@wobblyhannahtotherescue). Hannah is affected by a neurological condition called cerebellar hypoplasia. This means the brain does not communicate well with the body for movement, balance and coordination. As a result, there is a delay in body movements, and she needs a device to help her move about. Due to Hannah's size and body movements, most wheelchairs available on the market simply do not meet her needs, as she cannot be supported properly; they are either too big or topple during use. Tired of the limited options, Hannah's owner Cassidy contacted DiveDesign so that a more suitable solution could be designed.
"Hannah weighs 29 kilos and is unable to stay on her feet by herself. We tried out various customized wheelchairs and all of them failed; they were not made to withstand her weight and strength when she tries to move. We started to wonder if we could ever have anything done for her that would offer the support she needs", she says.
Cassidy first contacted DiveDesign to discuss possible options in April 2021. DiveDesign worked on creating concepts and prototypes with different designs, using state-of-the-art digitization and virtual design software, as well as the innovative carbon fiber-reinforced polypropylene (PP) filament for 3D printing ("CF-PP") by Braskem ("FL900PP-CF"). The company was capable of developing and printing a light, durable wheelchair for Hannah in less than four months, using virtual communication throughout. Now, Hannah's body has adequate support and she is fully capable of living an active and healthier life, enjoying independence and the freedom of going about her activities with her family and other dogs.
"When DiveDesign shared the opportunity and we saw Hannah on Instagram, we immediately fell in love with her. We immediately knew that having a light and durable material would be key for the success of the project. Our carbon fiber-reinforced polypropylene would be the perfect solution for Hannah's wheelchair. She is an incredible dog, and we are pleased we can help her have a comfortable and happy life", explains Jason Vagnozzi, Commercial Director for Additive Manufacturing at Braskem United States.
"My partner Adam Hecht and I were very lucky to be contacted by Jason at Braskem. Even though our team has extensive knowledge and experience in additive manufacturing, finding an ideal material became a challenge. Jason joined the project with Braskem's new CF-PP and gave us the confidence we needed to make it work for Hannah", explains Alex Tholl, DiveDesign CEO. To learn about the full story of Hannah and the team's journey to develop the carbon fiber-reinforced polypropylene wheelchair, watch the video: https://youtu.be/ufzmJvadmv4 .
Winning design
Braskem and DiveDesign recently won The Cool Parts Showcase award in the Best Tailor-made Solution category , for their work with Hannah. As with the award-winning video series The Cool Parts Show, the award highlights innovative solutions for daily life, made from 3D printing. Registration was open to anyone who produced items based on additive technology. "The response to the award by participants, those who cast their vote and those who turned up to the event was outstanding", says Stephanie Hendrixson, co-host of The Cool Parts Show together with Peter Zelinski. "More than 2,500 fans voted on our winning items from 12 finalists. On behalf of the The Cool Parts Show team, I want to thank you all for sending your items and those who voted, as well as to congratulate the creators of our winning items!"
Carbon fiber reinforced polypropylene
Braskem's carbon fiber reinforced polypropylene filament enables users to print 3D light and extremely rigid items for sophisticated applications in sectors such as automotive, aerospace, nautical, sports goods and much more. And best of all is that FL00PP-CF is made 100% from recycled carbon fiber, thus giving a more sustainable footprint to the product while retaining the expected outstanding performance from a virgin carbon fiber.
Carbon fiber reinforced polypropylene filament for 3D printing from Braskem - main features:
100% recycled carbon-fiber content
High stiffness and resistance - 6x stronger than traditional PP filaments
Optimized for high-resolution printing
Lightweight/low density
Excellent chemical resistance
Low shrinkage/buckling
High impermeability - does not absorb humidity, does not require drying
The carbon fiber reinforced polypropylene filament from Braskem was developed for use in industrial and individual 3D printing applications, and it is an excellent option for rapid prototyping processes, customized product design, lightweight product manufacturing, geometry and design optimization of spare parts. The carbon fiber reinforced polypropylene filaments from Braskem are available in 1.75 mm and 2.85 diameters to satisfy a wide range of 3D printing applications and can be purchased online. For additional information about Braskem's additive manufacturing portfolio, including filaments, powders for fused filament fabrication (FFF), Selective Laser Sintering (SLS) and high-speed pellet extrusion, go to https://www.braskem.com/usa/3d-printing .
ABOUT DIVEDESIGN
DiveDesign is an award-winning industrial design agency enabling additive manufacturing technology companies to tell incredible stories by identifying market opportunities for new solutions. We are a small and cohesive team of designers and engineers located in the small town of Boonton, state of New Jersey (USA), near New York City. Learn more by going to www.divedesignco.com .
ABOUT THE COOL PARTS SHOW
The Cool Parts Show is a video series by the Additive Manufacturing magazine. Presented by Editor-in-Chief Peter Zelinski and Editor Stephanie Hendrixson, each episode focuses on an interesting 3D printed item in order to explore how it was made and to reveal the possibilities of additive manufacturing.
For more information related to press, please contact:
CDN Communication
(11) 3643-2906
(11) 3643-2919