Braskem joins global alliance to combat plastic waste in the environment
The non-profit organization, which engages the entire plastics value chain, plans to invest up to US$1.5 billion over five years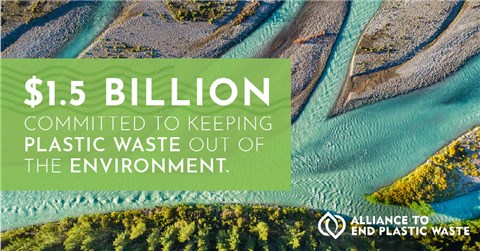 Braskem, the largest resin producer in the Americas and the world's leading biopolymer producer, has joined a group of roughly 30 global corporations to help end the disposal of plastic waste in the environment. The Alliance to End Plastic Waste launched its activities by already pledging US$1 billion to projects and to developing technologies that combat the disposal of plastics in the environment, especially in the oceans. The alliance aims to expand its total investments to US$1.5 billion over the next five years.

"None of us want an environment full of plastic waste. This is a global, serious and complex challenge that requires rapid action and strong leadership. The new alliance is the most comprehensive effort ever to end plastic waste in the environment," said Fernando Musa, CEO of Braskem. "Plastic is an extremely efficient material that helps minimize our environmental impacts in virtually all aspects of modern life. But we need to focus on minimizing its disposal and on promoting the recycling of post-consumer plastics."

The initiative comes after Braskem's announcement of its commitments to the Circular Economy, which includes a focus on recycling and on the production of new renewable resins. The company also recently announced an effort to support new technologies and business models that encourage the reuse of plastics.

Now Braskem is joining forces with the alliance, which is a non-profit organization that encompasses the entire plastics value chain: companies that produce, use, sell, process, collect and recycle plastics. This includes chemical and plastic producers, plastic converters, consumer goods manufacturers, retailers and waste management companies. One of the alliance's strategic partners is the World Business Council for Sustainable Development.

Some of the first projects announced by the alliance include partnerships with various city governments to design integrated solid waste management systems in major urban areas with limited infrastructure, especially those near rivers that carry large amounts of plastic waste from the continent to the ocean.

It also will collaborate with intergovernmental organizations, such as the United Nations, and provide financial assistance to the network of incubators of Circulate Capital to support the development and promotion of technologies, business models and entrepreneurs that, among other initiatives, work to prevent plastic waste in marine environments and to manage solid waste and recycling.

The founding members of the Alliance are: Braskem, BASF, Berry Global, Chevron Phillips Chemical Company LLC, Clariant, Covestro, Dow, DSM, ExxonMobil, Formosa Plastics Corporation, U.S.A., Henkel, LyondellBasell, Mitsubishi Chemical Holdings, Mitsui Chemicals, NOVA Chemicals, OxyChem, PolyOne, Procter & Gamble, Reliance Industries, SABIC, Sasol, SUEZ, Shell, SCG Chemicals, Sumitomo Chemical, Total, Veolia, and Versalis (Eni).
For more information, please access www.endplasticwaste.org