Braskem America's Pittsburgh Innovation & Technology Center Named Top Workplace for 2020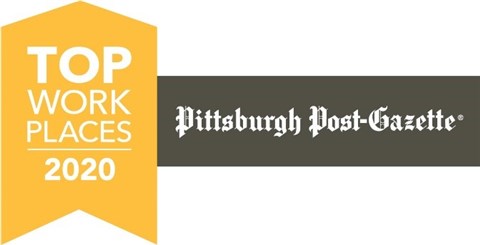 Braskem today announced that the Company's U.S. based Braskem America Innovation & Technology Center (I&T Center) in Pittsburgh, Pennsylvania was named a Top Workplaces Award winner by the Pittsburgh Post-Gazette's list of Top Workplaces for 2020.
Mark Nikolich, Braskem America CEO commented, "We are honored to be receiving this recognition for the eighth time in nine years. It has even more significance in 2020 as it reflects how our team has come together and risen to the challenge of continuing to successfully innovate and serve our clients amid the COVID-19 pandemic. Our Braskem America I&T Center in Pittsburgh plays a critical role in our ability to deliver our client's polymer and material solutions needs with leading edge solutions across important areas such as recycling, carbon reduction, additive manufacturing, and much more. Our recently completed investment project to expand our research and development laboratories in Pittsburgh underscores Braskem's commitment to excellence in Pittsburgh and reinforces our focus on continuing to attract world-class talent."
The award is timely, given that Braskem has recently completed a $10 million investment towards the expansion of its Pittsburgh I&T center. The expansion project adds eight new research and development laboratories with state-of-the-art equipment for developing new proprietary technologies to support innovations in Catalysis, Recycling, and 3D Printing.
The new laboratories support the company's broader sustainability based innovation objectives and its Carbon Neutral Circular Economy goals. The I&T Center facility expansion is focused on catalysis and petrochemical process technology capabilities, expanding its 3D Printing research capabilities, and also contains advanced polymer characterization laboratories, which include chromatography, polymer cracking and microscopy analyses. Overall, the expansion complements the site's existing research and lab footprint and capabilities.
Pittsburgh Post-Gazette's recognition of companies and organizations in Pittsburgh as Top Workplaces for 2020 is based solely on employee feedback gathered through a third-party survey administered by employee engagement technology partner Energage, LLC. The anonymous survey uniquely measures 15 drivers of engaged cultures that are critical to the success of any organization: including alignment, execution, and connection, just to name a few.
"In times of great change, it is more important than ever to maintain a connection among employees," said Eric Rubino, Energage CEO. "When you give your employees a voice, you come together to navigate challenges and shape your path forward based on real-time insights into what works best for your organization. The Top Workplaces program can be that positive outcome your company can rally around in the coming months to celebrate leadership and the importance of maintaining an employee-focused culture, even during challenging times."