Braskem and Voltalia sign a 20-year deal to buy solar energy
The power generated in the state of Rio Grande do Norte will be used by our petrochemical industrial units in Brazil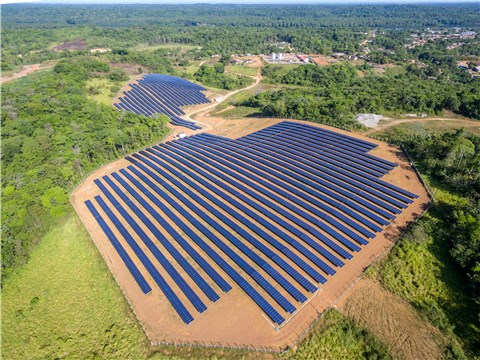 Braskem announces another important step in its sustainable development strategy with the signing of a deal with the French multinational Voltalia to purchase solar energy, which will be used by its industrial units in Brazil. Braskem committed to buy the solar energy for 20 years. Through the deal, Braskem incorporates a competitive source of energy into its portfolio and invests in a clean and sustainable energy matrix. With the agreement, the company will reduce its CO2 emissions by 130,000 tons over the duration.
The agreement also will make viable the expansion of the Serra do Mel solar complex in the state of Rio Grande do Norte. Voltalia's Serra do Mel 1 & 2 projects was the winner of the 30th New Energy Auction (A-6) held in October 2019 by the Electric Energy Trading Chamber (CCEE). In addition to the 32 MW awarded in the auction, Voltalia also negotiated additional agreements in the Free Energy Market with a series of buyers, including Braskem. As a result, the capacity of the Serra do Mel Solar Complex will reach 270 MW, equivalent to the power consumed by a city of 1 million people.
"The partnership with Voltalia reinforces our commitment to sustainable development and expands the use of renewable energy in our operations. Not to mention the importance of long-term agreements like these, which give the business a major competitive potential, while maximizing benefits for all involved," said Gustavo Checcucci, Braskem's Energy director.
"I'm very pleased to announce our first deal with Braskem for the sale of renewable energy. Companies are showing more and more interest in buying clean energy directly, which is due to both sustainability and economic reasons. Many renewable energy projects are becoming viable in this way thanks to corporate Power Purchase Agreements (PPAs), which is excellent news. The deal is assuring for Voltalia the feasibility of its first large-scale solar complex in the Serra Branca cluster, in Rio Grande do Norte, where we are combining wind and solar energy at the same site," said Robert Klein, CEO of Voltalia Brasil.
Voltalia's footprint in Brazil
More recently, the company expanded its footprint to other states, such as Minas Gerais, with the Cabui Hydroelectric Project (16 MW, awarded at auction in October 2019); and in Bahia, with a new wind farm in Canudos (90 MW made feasible in 2019), which has the potential to become the company's newest cluster, with capacity of 1 GW.
Renewable energy at Braskem
Investing to diversify its energy matrix, in December 2019, Braskem inaugurated a solar-based distributed generation plant in Bahia. The plant supplies 35% of the electricity used in Braskem's administrative office in Salvador, where around 400 people work. In November 2018, Braskem signed a long-term commitment to buy renewable energy for 20 years, also in Bahia. The agreement made possible the expansion of a wind energy complex in the city of Campo Formoso, 350 kilometers northwest of Salvador, helping to position Bahia among the industry leaders in the coming years.
About Voltalia
Voltalia is an international player in the renewable energy sector. The Group produces and sells electricity generated from wind, solar, hydro, biomass and storage facilities that it owns and operates. Voltalia has generation capacity in operation and under construction of over 1GW and a portfolio of projects in development representing total capacity of 7.1GW. Voltalia also is a service provider and supports its investor clients in renewable energy projects during all phases, from design to operation and maintenance.
As a pioneer in the corporate market, Voltalia provides a global offering to private companies, ranging from the supply of green electricity and energy efficiency services to local production of their own electricity. The Group, which has over 791 employees and is present in 20 countries, has the capacity to act worldwide on behalf of its clients. Voltalia is listed on the Euronext Paris stock exchange and is a component of the Enternext Tech 40 and CAC Mid & Small stock indexes. The Group also is a component of the Gaïa-Index for socially responsible midcaps.
For more information related to press, please contact::
CDN Communication
Fernando Rubino (55 11) 3643-2991 - fernando.rubino@cdn.com.br
Jessyca Trovão - (55 11) 3643-2769 - jessyca.trovao@cdn.com.br
Fábio Souza - (55 11) 3643-2813 - fabio.souza@cdn.com.br