IN THE CIRCULAR ECONOMY,
NOTHING IS WASTED,
EVERYTHING IS TRANSFORMED
Braskem's Positioning on the CIRCULAR ECONOMY
With a global vision focused on the future, Braskem, the largest resin producer in the Americas and the world's leading biopolymer producer, works every day to improve people's lives by creating sustainable solutions in chemicals and plastics.
With a global vision focused on the future, Braskem, the largest resin producer in the Americas and the world's leading biopolymer producer, works every day to improve people's lives by creating sustainable solutions in chemistry and plastics.
Innovations in plastics are essential for enabling society to raise living standards and to advance sustainability through products that avoid waste and increase efficiency. For this reason, plastics are widely recognized as playing a crucial role in delivering a more sustainable future. With a unique combination of lightweight, low cost, and durability, plastics already contribute to reducing greenhouse gas emissions and to the more efficient use of natural resources such as energy and water.
Plastics also make critical contributions to agricultural productivity, food safety, and hospital hygiene. Plastics are used in a wide array of industries in routine applications. Because of their versatility and capacity for innovation, plastic materials also are invariably better suited for supporting innovative sustainable technologies.
Braskem recognizes that adequate management of the disposal of plastic waste is a growing global concern. For society to leverage the benefits that plastics offer, it is essential that they be recovered properly to avoid causing harm to our natural environments, including marine ecosystems.
Plastics must be used responsibly, discarded properly, and reused, recycled or recovered.
To ensure this, all of us must work together to promote conscientious consumerism and proper disposal and recycling. This is a complex issue that brings with it social and economic challenges. It is a topic that no one organization, industry or government can solve alone. Braskem is taking the first step to do our part through a new global commitment to the Circular Economy and we are inviting others to do the same.
Braskem's
Voluntary Commitments
Braskem is committed to working around the world with key stakeholders in the value chain, industry associations, academia, NGOs, policymakers and society, to help find solutions to these challenges, including adequately managing the lifecycle of products containing plastics.
Alongside other industry colleagues , Braskem is committed to supporting the growth of recycling at all of its sites around the world through actions to advance the circular economy, which includes how we design, manufacture, use, recycle, recover or reuse plastics.
By engaging in voluntary commitments together with industry organizations in various geographies, Braskem will act and seek the support required to meet various goals, including: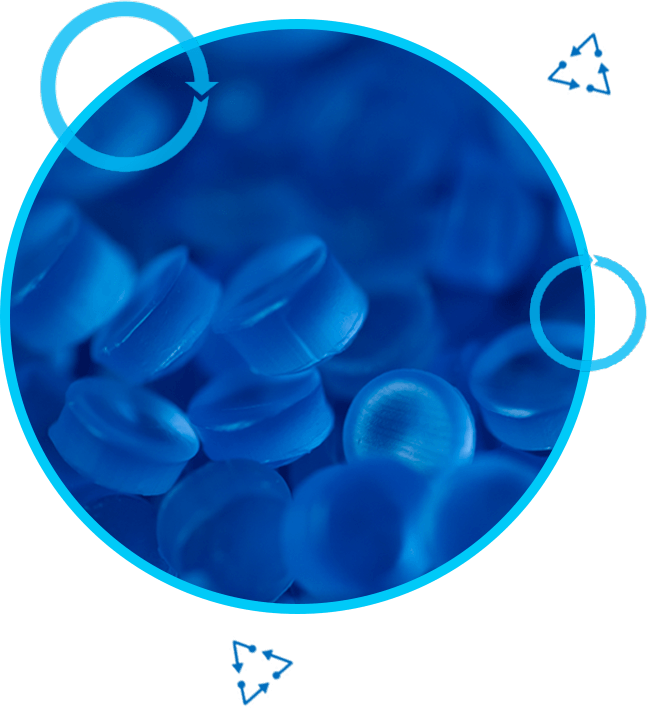 That 100% of Braskem's industrial units adopt best practices for pellet control, including becoming an Operation Clean Sweep Blue Member by 2020
That 100% of plastic packaging be reused, recycled or recovered by 2040
How do we get there?
To support the achievement of these goals, Braskem is focusing on eight fundamental issues. Click on each one to learn more details. Our ideas, proposals, projects, challenges and achievements will continue to be shared in this space.
Check it out!
Policies
To reinforce Braskem's actions, other stakeholders must be engaged. To achieve this, effective policies and partnership are needed.
Braskem urges policymakers and partners:
- To encourage political approaches that support and reward innovation, entrepreneurship and local solutions as the best way to foster technological advances and stimulate private investment;
- To adopt concrete targets and initiatives for recovering and reusing products and packaging, while recognizing that progress towards the sustainable circular economy will be gradual;
- To support collaboration among governments, communities, manufacturers, NGOs and consumers in meeting targets.
As a global player, Braskem undertakes a commitment to strengthen its contribution to sustainable development. Over time, progress on the eight fundamental issues can evolve, which would be reflected in our commitment.
The progress made in recycling and our actions will be reported in our annual report. Through this voluntary commitment to the circular economy, we want to make clear that we are part of the solution by working alongside all stakeholders to transform our economy into a circular economy in which society's needs are met by more innovative and sustainable materials, processes and systems.
Want to join? Contact us.
Comments:
1 - A circular economy is an alternative to a linear economy (make, use, dispose) in which we keep resources in use for as long as possible, extracting the maximum value possible throughout their use, and then recover and regenerate products and materials at the end of each lifespan cycle. (WARP, UK)
2- Braskem is a signatory to the voluntary commitments of the Association of Plastic Manufacturers (PlasticsEurope), the American Chemistry Council (ACC), Asociación Nacional de la Industria Química (ANIQ) and Asociación Nacional de Industrias del Plástico (ANIPAC).
3- Plastic resin 'pellets' are small granules generally with shape of a cylinder or a disk with a diameter of a few mm.
4 - Operation Clean Sweep is an international program to prevent the loss of pellets, flakes and powder from resins and help keep pellets out of the marine environment.