Braskem America donates recycled plastic benches to local community organizations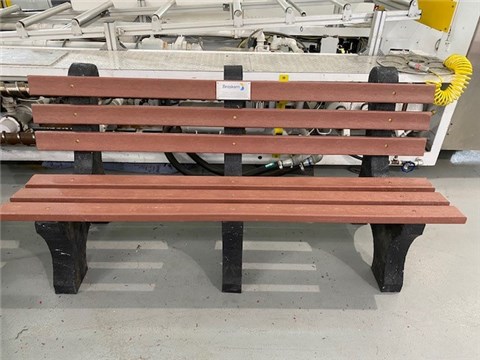 Braskem, the largest thermoplastic resin producer in the Americas and the world's leading biopolymer producer, has generously donated durable benches and tables made from 100% recycled plastic to local non-profits and other organizations in the local communities where Braskem operates.
Braskem's Sustainability Development strategy includes a strong focus on local development. As part of Braskem's WeCARE Week , a global week dedicated to mobilizing team members to give back and volunteer in their local communities, some Braskem team members focused on efforts to promote recycling and reuse of plastics. Team members nominated organizations in their local communities that would benefit from receiving durable plastic furniture, and the winning organizations were selected as a direct result of team member's nominations.
According to Brittany Darras, one of Braskem's team members who works in the Circular Economy and Sustainability area and also oversees the Volunteer Program in the U.S., "With the restrictions put into place due to the pandemic, our traditional ways of impacting our communities were limited in 2020; a creative idea brought forth was to donate durable furniture made from 100% recycled plastic to organizations that could really benefit from additional seating. This furniture is an example of how recycled plastic can be transformed and used in valuable applications that benefit our communities. The more educated and aware our society is on the benefits of recycling, the more we can keep waste away from landfills."
The foundations that received donations include; Today's Harbor for Children (La Porte, Texas), Bridge Over Troubled Waters (Pasadena, Texas), Stepping Stones Inc. (Huntington, West Virginia), Marcus Hook Borough (Greater Philadelphia, Pennsylvania), Carnegie Science Center (Pittsburgh, Pennsylvania), Oakland Catholic High School (Pittsburgh, Pennsylvania), and Science Leadership Academy (Philadelphia, Pennsylvania).
Braskem is strongly committed to a world where nothing is wasted and everything is transformed. Braskem announced its commitment to a Carbon Neutral Circular Economy , with clearly stated targets for growing the company's I'm green TM recycled products portfolio to sales of 300,000 tons by 2025 and 1 million tons by 2030. In 2020, Braskem became a founding member and funding partner of the Polypropylene Recycling Coalition, an initiative of The Recycling Partnership, to increase U.S. curbside recycling access for polypropylene and ensure PP is widely recovered and reused. Braskem is also a founding member of the Alliance to End Plastic Waste.