Plastic waste recovery continues to increase in Mexico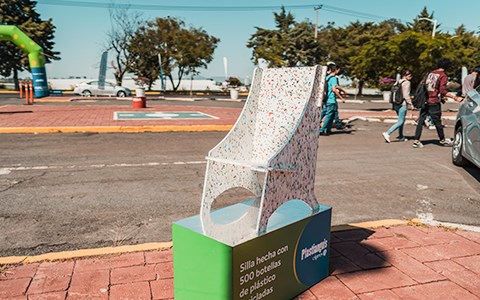 The Plastianguis program in Mexico gets ever stronger at each edition as an initiative to raise awareness in the population about the proper disposal of plastics and advancing the circular economy.
The program was launched in 2015 by the National Chemical Industry Association (Associação Nacional da Indústria Química, ANIQ) and, since 2017, Braskem Idesa has participated actively through actions carried out every year in places such as Mexico City and Nanchital, in the state of Veracruz.
Through the program, people can exchange plastic waste for items such as food and hygiene kits, in addition to participating in educational actions focused on the importance of recycling plastics and everyone's engagement in waste separation and proper disposal.
Nanchital: goal of 100 tons reached
The last edition held in Nanchital in late 2021 reached its goal of collecting 100 tons of plastic waste, with the support of the people of Coatzacoalcos, Cosoleacaque, Ixhuatlán, Minatitlán, Agua Dulce, Moloacán, Cuichapa, Las Choapas and surroundings.
Jalisco: first edition in the state
At the end of 2021, the state of Jalisco hosted the first edition of Plastianguis. More than 18 tons of plastic waste was collected in partnership with the Autonomous University of Guadalajara (Universidad Autónoma de Guadalajara, UAG). Almost one thousand people from eight municipalities in Jalisco took part in the action, an important step for the circular economy to make further advances in the region and the country.
The program is an initiative that is aligned with Braskem goals and commitments towards sustainable development and carbon neutral circular economy. Click to learn more .