Innovation and Technology Center wins Good Neighbor Award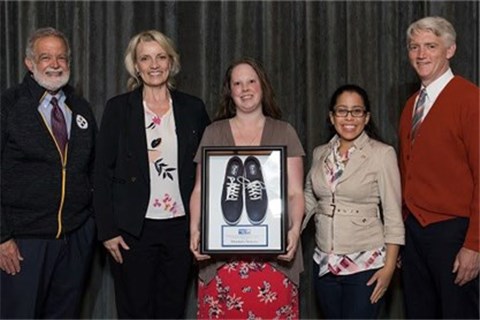 Braskem is proud to announce that the Pittsburgh Innovation & Technology Center has been selected as a 2019 recipient of United Way's Fred Rogers Good Neighbor Award. Team Members from Pittsburgh were recognized for this award due to their selfless acts of volunteerism through United Way and other initiatives.
"We are so honored to be recognized as an organization that goes above and beyond to make a difference in our community. Receiving a Fred Rogers award is such an honor considering his legacy to the charitable community and to be part of anything that commemorates his memory is very humbling," said Arlene Goetz, People & Organization Leader in Pittsburgh.
The Good Neighbor award is an award given to organizations that display honorary contributions to the community just as the beloved Pittsburgh icon, Fred Rogers did. Rogers was an exceptional role model, who was best known for his presence on Mister Rogers Neighborhood which aimed to help children develop a sense of moral and ethical reasoning. His passion for education, children and the community lead him to later receive the Presidential Medal of Freedom, 40 honorary degrees, and a Peabody Award. His immense contributions to society made a lasting impact which will forever be remembered.
Each year, the United Way recognizes organizations who honor the legacy of Fred Roger's and align with their mission to promote civic engagement and provide charitable contributions to the community. Braskem was among 10 companies including Deloitte, Covestro, PPG and others, who were recognized for this award and Arlene Goetz, from Pittsburgh's I&T Center was among 5 individuals to accept the award. The Fred Rogers Good Neighbor award is broken down into three categories; large, medium and small companies, and based on the total number of volunteer hours for the campaign year per company. This award was made possible through Braskem's participation in Build-a-Bike, games for Good Will, and a food packing event. Pittsburgh's contribution to these events displayed our overall volunteerism through United Way.
"I am glad we can come together as a team and take part in these charitable activities to make an impactful difference in the community. We have so many Team Members who want to give back and being part of an organization who feels the same way is all the more worthwhile," Ashley Anzelone, Site Support in Pittsburgh.
"At Braskem, we are committed to upholding our core value of being selfless in serving the community both on the job and through volunteerism," said Arlene Goetz.
Braskem is honored to be recognized for this award. We strive to positively impact our local communities and help make a difference. We hope to participate in similar events in the future.
Para aclaraciones adicionales a imprensa, por favor contactar:
CDN Comunicación
(11) 3643-2906
(11) 3643-2919