Answer to CVM/B3 letter - Atypical securities trading (November 10, 2021)
São Paulo, November 11, 2021.
To
B3 - BRASIL, BOLSA, BALCÃO ("B3")
Praça Antônio Prado, 48, 2º andar
CEP 01010-010, São Paulo - SP
Company Oversight Department
Attn.: Ms. Ana Lucia Pereira - Superintendent of Listing and Supervision of Issuers
Cc.: Securities And Exchange Commission Of Brazil (CVM)
Attn.: Mr. Fernando Soares Vieira - Company Relations Superintendent
Mr. Francisco José Bastos Santos - Market and Intermediary Relations Superintendent
Re.: Official letter B3 1521/2021-SLS of 11/10/2021
Dear Sirs,
We refer to Official Letter B3 1521/2021-SLS ("Letter"), dated of 11/10/2021, which you requested clarifications from Braskem S.A. ("Braskem" or "Company"), as transcribed below:
"Re.: Request for clarification on atypical oscillation
Dear Sir,
In view of the last fluctuations registered with the securities issued by this Company, the number of trades and the quantity traded, as below, we request you to inform until 11/11/2021, if there is any fact you may be aware that can justify them.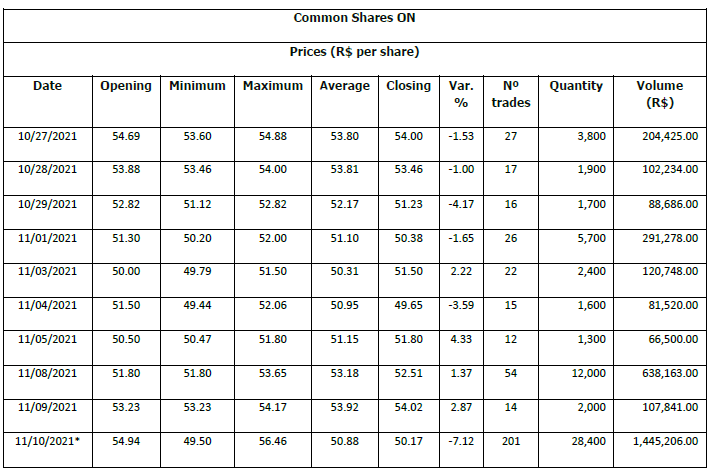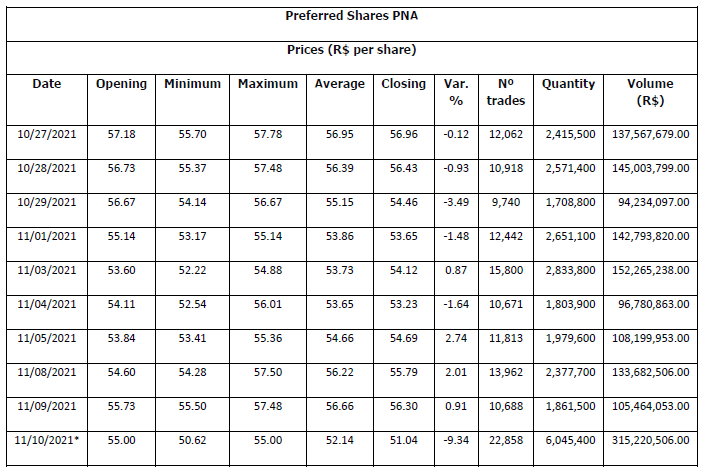 *Update as of 2:13 p.m.
In this regard, Braskem clarifies that there was no material fact or act not disclosed by the Company that justifies the latest fluctuations recorded with the shares issued by this Company, nor with the number of trades and quantity traded in the period between 10/27/2021 to 11/10/2021.
Additionally, Braskem informs that announced its third quarter results on 11/09/2021 and therefore, market reports were released emphasizing the solid results registered in the quarter by the Company, however distinct from analysts' expectations.
In this sense, the Company reiterates its ongoing commitments in seeking productivity and competitiveness in all industrial operations and in generating cash for the business, in order to maximize the return of all its shareholders.
For more information, contact Braskem's Investor Relations Department by calling +55 (11) 3576-9531 or by sending an e-mail to braskem-ri@braskem.com.br.
Sincerely,
Pedro van Langendonck Teixeira de Freitas
Chief Financial and Investor Relations Officer
Braskem S.A.