Braskem starts commercial polypropylene production at its new production line in La Porte, Texas
The new production line strengthens the company's position as a major polypropylene producer in North America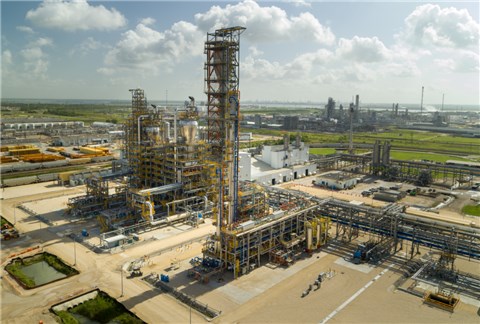 Braskem, the largest producer of thermoplastic resins in the Americas and the world's leading producer of biopolymers, announces the successful startup of its newest polypropylene (PP) production line, which adopts the highest standards of operational excellence, located in La Porte, Texas.
With annual production capacity of over 450 kta, the new production line can manufacture the entire polypropylene portfolio, which includes a wide variety of products, including homopolymers, impact copolymers and random copolymers. Construction began in October 2017 and was completed in June 2020. Commercial production will begin after the successful conclusion of the commissioning process and achievement of the high quality-assurance protocols of Braskem products.
According to Mark Nikolich, CEO of Braskem America, "the startup of commercial production on the new polypropylene production line clearly reinforces Braskem's leadership in the North American polypropylene market. Our investment of US$750 million in the largest polypropylene production line in the Americas and in the first new polypropylene plant in North America since 2008 reflects our permanent commitment to meeting the needs of our clients now and in the future. With the startup of our new global export center in Charleston, South Carolina, we will dramatically expand our capacity to serve clients throughout North America, South America, Europe and Asia. I also want to thank our design and construction partners for making this important project a reality during the challenging environment imposed by covid-19. Our top priority always is the safety of our teams, and their outstanding performance throughout the project is clear proof of their commitment to professional excellence."
The unit's construction has had positive effects on the economy of the Gulf Coast of Texas and employed some 1,300 construction and development professionals. Another 50 jobs also were created at Braskem to support its long-term commercial production. The plant's was designed completely aligned with Braskem's commitment to sustainability and with attention to eco-indicators such as emissions, energy and water efficiency, waste reduction and recycling. To learn more about Braskem's new production line, visit www.braskem.com/usa/delta .
"Our new production line is coming online right when North America's polypropylene industry most needs it. The market has been adapting to the pandemic and demand in North America already has returned to pre-pandemic levels. Combined with the industry's recent operational challenges, this demand has created a situation in which North American clients need our support. We're very pleased to offer this new production capacity to clients from various regions of the world," said Alexandre Elias, Braskem's polypropylene director for North America.
In June 2020, Braskem announced the development of its new global export center in Charleston, South Carolina to better serve international clients from the U.S. market. The new global export center will supply packaging, storage and shipping services to support Braskem's polypropylene production units in the country. With design and development already in the advanced stages, the new global export center is slated to be completed in the third quarter of this year. The facility will have capacity to support export shipments of up to 204 kton (450 million pounds) of polypropylene and specialized polymers to Braskem's clients around the world.
For more information related to press, please contact::
CDN Communication
Karina Alves (55 11) 3643-2981 - karina.alves@cdn.com.br
Jessyca Trovão - (55 11) 3643-2769 - jessyca.trovao@cdn.com.br
Fábio Souza - (55 11) 3643-2813 - fabio.souza@cdn.com.br