Braskem and Chemetry invest US$18 million in construction of demo plant to produce EDC and caustic soda in Alagoas
The plant will deliver gains in energy consumption and costs in the production of ethylene dichloride (EDC), a feedstock for products such as PVC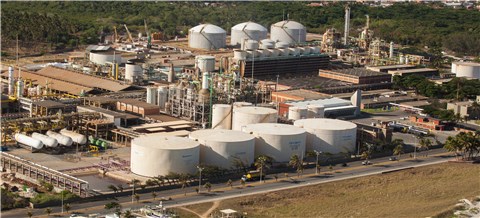 Braskem and Chemetry, a U.S.-based environmental technology services company for the chemical industry, announced the construction of a demonstration plant to produce ethylene dichloride (EDC) and caustic soda. Investment in the project is estimated at US$18 million, which will be shared by the two companies, with the start of demo operations slated for the second half of 2022.
EDC is a chemical product used mainly to make polyvinyl chloride (PVC), which is one of the most important thermoplastic resins in the market due to its vast application possibilities and one of the most common materials in the construction industry.
The new plant will be based on Chemetry's eShuttleT technology, which enables the production of highly pure EDC without generating chlorine gas. The main benefits include significant reductions in energy consumption and production costs, while enabling expansion in operating capacity within the existing physical area.
Ryan Gilliam, CEO of Chemetry, explains that the company works to drive innovation in the production processes of chemical products. "The eShuttleT technology combines safety and environmental correctness in petrochemical operations, with significant economic gains. In partnership with Braskem, we are seeking to confirm the commercial feasibility of the technology, which will reinforce our innovative capacity to serve the EDC market", said the executive.
eShuttleT was developed by Chemetry in its laboratories and tested in the company's pilot plant located in Moss Landing, California. The demonstration plant to be built in partnership with Braskem is the next step, which will have an intermediary scale between pilot and industrial production and is considered a decisive phase for confirming the project's technical and economic feasibility. Braskem's Innovation & Technology and Process & Project development teams will work together with Chemetry to install the demo plant, whose industrial operations will be the responsibility of the Brazilian petrochemical producer.
"Innovation and sustainable development are key concepts at Braskem that guide our initiatives to leverage productivity and competitiveness. We believe that eShuttleT will play a significant role in the chemical industry and in our operations. Our participation in this project reinforces our pioneering position in the global chemical industry," said Isabel Figueiredo, vice-president of Vinyls and Specialties at Braskem.
The technology also uses the same feedstocks and results in the same products (EDC, caustic soda and hydrogen) as conventional processes, making it ideal for greenfield projects, as well as for modernizing existing chlor alkali/EDC plants. The demo plant will have a skid-mounted structure that will be built in Canada by a specialized partner company and be transported to Brazil. The plant will be built at Braskem's chlorine and soda unit located in Maceió, Alagoas.
For more information related to press, please contact::
CDN Communication
Karina Alves (55 11) 3643-2981 - karina.alves@cdn.com.br
Jessyca Trovão - (55 11) 3643-2769 - jessyca.trovao@cdn.com.br
Fábio Souza - (55 11) 3643-2813 - fabio.souza@cdn.com.br